Our Story
EPIPHANY
A lifelong peanut butter lover, our co-founder Mark Overbay first made his own in 1999 while living in a rural farming community in Zimbabwe as a Peace Corps Volunteer. After harvest, community members roasted peanuts over open fires and pounded them with stones into a thick paste, usually added to savory dishes. Attempting to replicate the classically sweet, salty, and spreadable peanut butter he craved from home, Mark made his own batches with additions of honey, sea salt, and coconut oil. The deliciously fragrant, mouthwatering result was a revelation that the best foods are often the simplest—made with fresh ingredients, care, and craft.
INSPIRATION
In fall of 2010, upon realizing that truly handmade, small-batch nut butters were nowhere to be found, Mark was inspired to recreate that unforgettable peanut butter experience he had in Africa. He started roasting nuts and milling them into fresh nut butters in the Durham home kitchen he shared with our co-founder, Megan, who began incorporating Mark's nut butters into her homemade energy bars (which already had a cult following among local friends). Excited to share their nourishing, handcrafted foods with others and turn these passions into a business, Mark and Megan started Big Spoon Roasters in October 2010, selling their first jars and bars at a bicycle race in early 2011.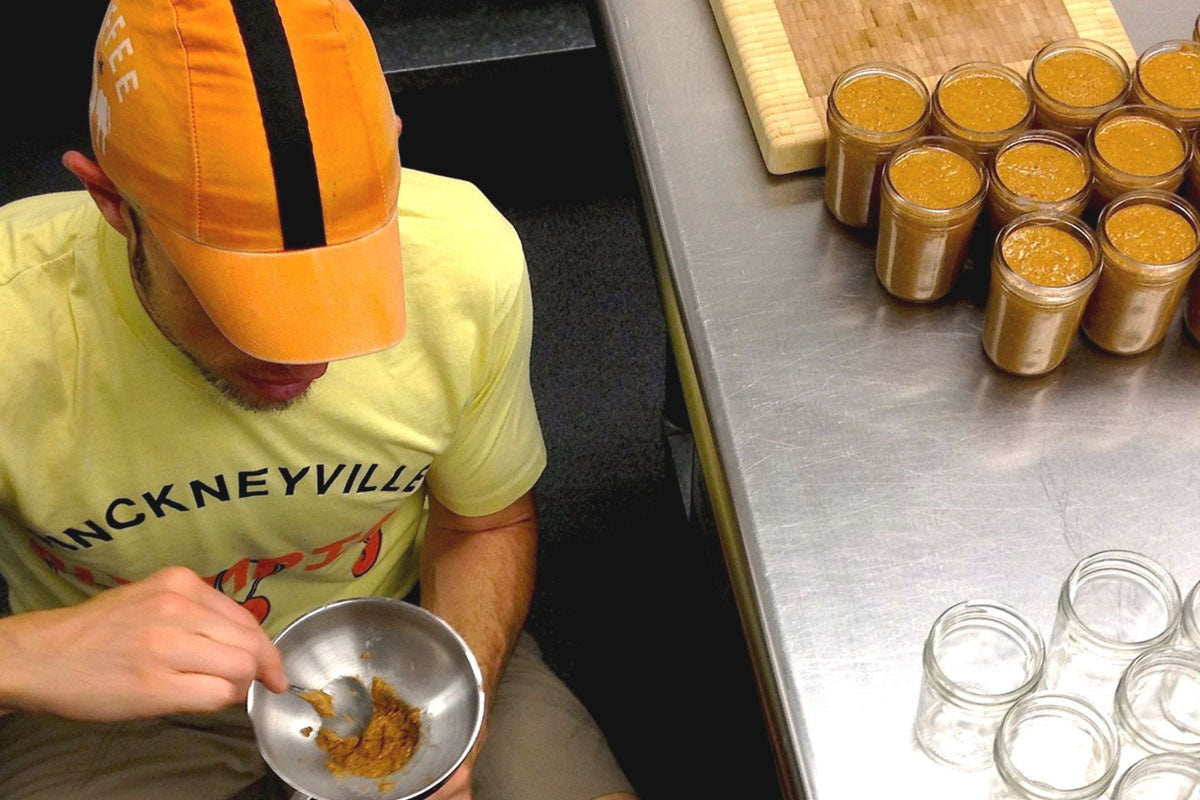 FOUNDATION
Big Spoon's philosophy is based on the belief that food matters. It matters to our health, our happiness, and the well-being of our planet and should be good for all those involved in producing it. For us, cooking and sharing food with others is a great joy. That's why we're so selective about our ingredients, prioritize an ethical and environmentally conscious supply chain, strive for zero waste, make our nut butters and bars in-house, pay certified living wages, and offer robust employee benefits, including subsidized health insurance, a monthly wellness stipend, and local farm CSA reimbursement.
INNOVATION
Simply by doing what we love, we've created numerous product innovations. To name a few, we were the first business to include chai spices, cocoa nibs, crystallized ginger, freshly toasted coconut, and citrus into nut butter recipes. We were also the first to offer membership clubs, and are the only nut butter maker, to our knowledge, with a fully transparent supply chain. We take great pride in these innovations but strive to be the best (not just the first) with each batch of nut butters and bars we create.  Believe it or not, it's also innovative for a food business to source ingredients from only trusted, transparent farms and producers who share their values. We are honored to work with a family of like-minded organic growers and food producers who are collectively motivated by growing the demand for higher quality, sustainable agriculture. As a few examples, we proudly work with Bee Friendly Certified almond growers in California; organic pecan farmers in Texas; small-scale ginger farmers in Fiji; third-generation sorghum farmers in Tennessee; and many more talented food producers we consider partners in a mission to set new standards for ingredient integrity, flavor, and freshness.
FAMILY
Our name is a tribute to Mark's dad, Gary, who is known to eat big spoonfuls of peanut butter straight from the jar, a habit that long ago earned him the nickname "Big Spoon" among family and friends. Keeping it in the family, Mark and Megan's beloved dogs—Riley, Rioja, and Grüner—have pitched in with countless hours of taste testing, jar cleaning, and support through the years. A deep love for our furry family members ultimately inspired the launch of our Wag Butter line of nut butters, which are specifically designed for dogs' unique nutritional needs.