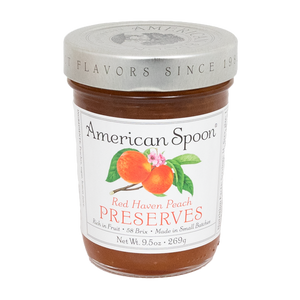 American Spoon Red Haven Peach Preserves
Regular price
$11.95
$0.00
Unit price
per
INGREDIENTS
Peaches, Sugar, Lime Juice
Our August featured jam highlights the juiciest part of summer: fresh, sun-ripened peaches.  American Spoon Red Haven Peach Preserves is a standout offering that does this majestic fruit the justice it deserves. 
Made in small-batch copper kettles just 70 jars at a time, American Spoon's sublimely aromatic Red Haven Peach Preserves are filled with golden chunks of hand-peeled Red Haven Peaches sourced exclusively from three family orchards along the Lake Michigan shore. This delicious preserve captures the lush sweetness of Michigan Red Havens at the peak of ripeness. Pair these preserves with Crunchy Peanut Butter or Fiji Ginger Almond Butter, then spread over buttery biscuits, toasty English muffins, or freshly baked scones. Or – and you can thank us later – add a fresh peach swirl to your bowl of ice cream. I scream, you scream, we all scream for Red Haven Peach Preserves!  
We're so proud to partner with American Spoon in our Featured Jams series. Since 1982, the folks at American Spoon have been preserving locally grown fruit in their Petoskey, MI, kitchen. You'll taste the results of the care and time they put into developing each batch – from their relationship-based ingredient sourcing with local Michigan farmers, to the copper kettles they've cooked in for decades, their products are outstanding! 
---